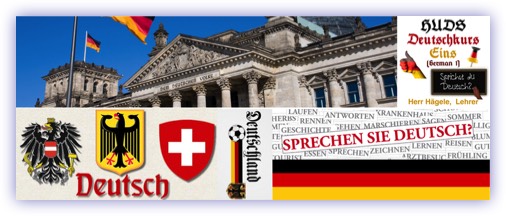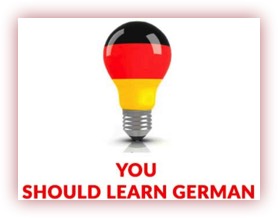 Why Study German? Warum Deutsch?
Whatever plans you may have for the future, knowledge of German will increase your options. When you learn German you acquire a range of skills which can improve the quality of your work, ministry, and private life. A study of German will also increase your English skills!
For further information or any questions on the HUDS German courses, please contact Herr Hägele by clicking this button:
Business
: Knowing the language of your German business partners improves your relations and therefore your chances for effective communication and success.
Germany is the world's fourth largest economy!
Direct investment by Germany in the United States is over
ten billion dollars
. Germany is responsible for 12.7% of the world's patent applications.
Global Career
: Knowledge of German increases your job opportunities with German and foreign companies in your own country and abroad. Proficiency in German helps you to function productively for an employer with global business connections. Germany employs over 700,000 Americans!
Tourism and Hospitality Industry
: Tourists from German-speaking countries travel wide and far, and are the world's biggest spenders when on vacation. They appreciate to be looked after by German-speaking staff and tour guides.

Science and Research
: German is the second most commonly used scientific language. Germany is the third largest contributor to research and development and offers research fellowships to scientists from abroad.
Also,
68% of all Japanese students study German
. What do they know that you don't?
Nobel Prizes
: 22 in Physics, 30 in Chemistry, and 25 in Medicine have gone to scientists from the three major German-speaking countries, while many laureates from other countries received their training in German universities. Eleven Nobel Prizes in Literature have been awarded to German-language writers, and seven Germans and Austrians have received the Peace Prize.
Communication
: Developments in media, information and communication technology require multilingual communicators. A wide range of important websites are in German and worldwide, Germany is ranked number 5 in terms of annual publication of new books. Knowledge of German therefore offers you extended access to information.
Enjoyment
of Literature, Music, Art and, Philosophy: German is the language of Goethe, Kafka, Mozart, Bach and Beethoven. Indulge in reading and/or listening to their works in their original language.
Opportunities for Exchange
: A wide range of exchange programs exists for both school and university students between Germany and many countries in the world. Germany awards a generous number of scholarships and other support to study in Germany.

Travel
: Make the most of your travels not only in German-speaking countries, but in many other European countries where German is widely spoken, especially in Eastern Europe.

If you are still not convinced to study German, watch this video!